The Hoover Dam is a must-visit attraction for visitors to Las Vegas. Located at the border of Arizona and Nevada, this national historic landmark is one of the most famous tourist destinations around Las Vegas. Earlier known as Boulder Dam, it is one of the best engineering accomplishments in human history and attracts millions of visitors each year.
The Hoover Dam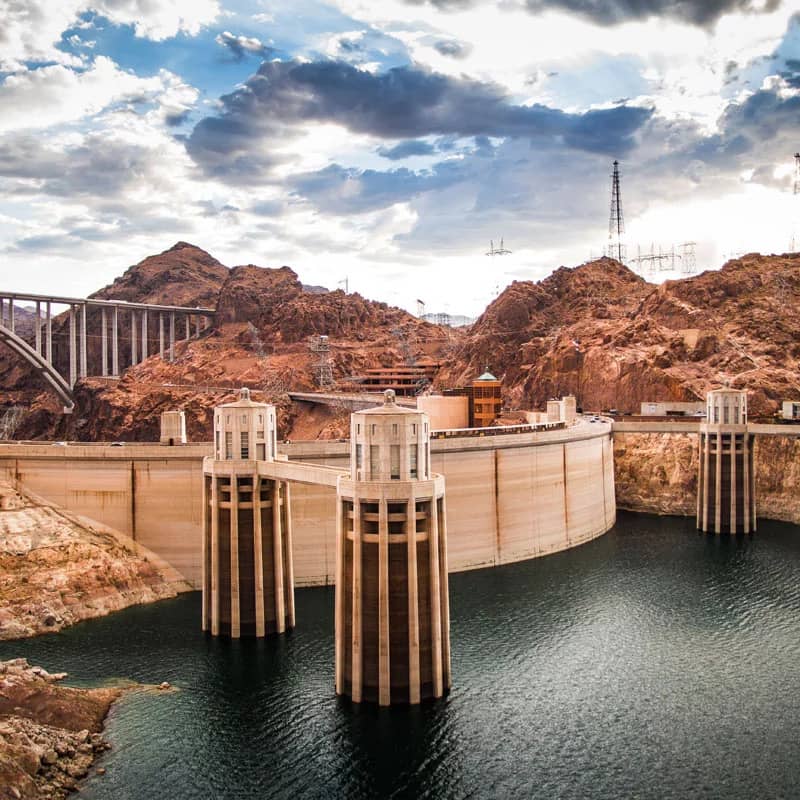 Built between 1931 and 1936, Hoover Dam is the outcome of a massive effort involving thousands of people. This gigantic structure is built on the Colorado River to harness hydro energy. The construction of an age bygone, the craftsmanship, and the breathtaking scenic views will make you a repeat visitor. It falls under the top 10 construction achievements of the 20th century. This colossal architecture continues to draw millions of visitors every year, even after several decades of construction.
You will find plenty of informative placards on the 1900-foot-long bridge walk at the dam. The observation deck at this panoramic site offers picturesque views of the Colorado River and Lake Mead. Here, you will have the opportunity to get on some of the best snapshots of your life.
NOTE – The Hoover Dam Tour includes a one-hour guided tour of the power plant and passageways within the dam itself, while the Power Plant Tour is a 30-minute guided tour of the power plant only. Both of these tours include admission to the Visitor Center.
Hoover Dam Limo Tour
The Hoover Dam is 30 miles away from Las Vegas Strip, and it takes up to 45 minutes to reach here. You can comfortably cover this major American landmark in a day tour. However, you should consider an overnight halt if you wish to spend substantial time at the dam. The Hoover Dam Limo Tour is astounding and is perfect for people of all ages. You can plan this tour with your friends and family without worrying about transportation needs.
Fabulous Transportation is a famous limo and party bus rental company in Las Vegas that offers luxury transportation at a budget cost. You can book a limousine or party bus from us for this fantastic tour. With every luxury vehicle you book with us, you get a professional, well-trained, and licensed chauffeur.
Note – You can explore Hoover Dam by adding a stop during Grand Canyon Tour from Las Vegas.